The Only Daughter Of "Father of Taiwanese Karate TETSUHIKO ASAI "Wins Japan's Best Director's Award
One of the major newspapers in Taiwan, the China Times, wrote an article about, Hoshimi Asai in its Cross-Strait & International section.

The news spread quickly in the Taiwanese karate community. Here is the English version.*

*Translation by IJKA

Title: The Only Daughter Of "Father of Taiwanese Karate TETSUHIKO ASAI"Wins Japan's Best Director's Award

  http://www.chinatimes.com/newspapers/20150325000837-260108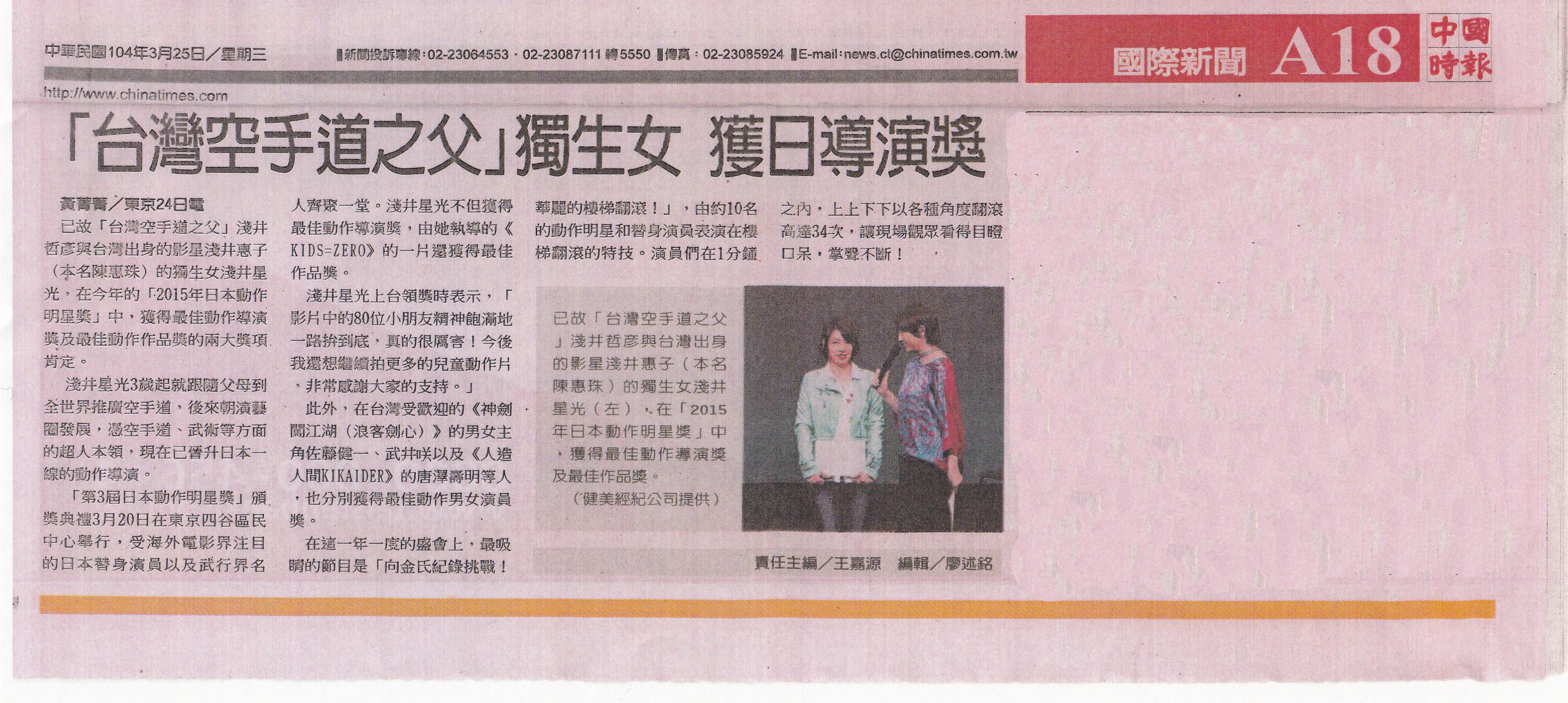 The only child and daughter of the late "Father of Taiwanese Karate TETSUHIKO ASAI"
and the Taiwanese movie star Keiko Asai (born 陳恵珠),
Hoshimi Asai (left photo), won the Best Action Director's Award and Best Picture Award
at "Japan Action Awards 2015."
From when she was three years old, Hoshimi Asai travelled with her parents to spread
karate around the world, and later on established a successful career in the
entertainment industry.With her superhuman abilities in karate and other forms of
martial arts, she has now attained the title for Japan's front-line Best Action Director.
The ceremony for the third-year "Japan Action Awards 2015" took place at Tokyo
Yotsuya Kumin Centre on March 20th, gathering internationally acclaimed Japanese
stuntmen and martial arts masters. Hoshimi Asai not only won the Best Action Director's
Award, the film KIDS=ZERO that she directed won the Best Picture Award.In her
interview at the ceremony, she said: "all eighty kids in the movie tackled the project in
such high spirits from the beginning to the end. This is really great. I'd like to continue
making more kids action movies. Thank you all for your support."
The Best Action Actor and Actress Awards were given to Takeru Satoh and Emi Takei,
both also popular in Taiwan, and Toshiaki Karasawa from Jinzo Ningen KIKAIDER.
The annual event and the highlight of the ceremony was the "Guinness Challenge!
The Graceful Stairway Fall!" About ten leading action stars and stuntmen fell down the
stairway one by one. While one actor fell with a forward flip and landed with a back flip,
the other fell down the stairs sideways.
The actors made a record of 34 staircase-fallings in one minute,
receiving a long applause from the audience.
The Best Action Director's Award
Kenji Tanigaki (谷垣 健治)
Hoshimi Asai (浅井 星光)
Toshiro Shoma (匠馬 敏郎)
Makoto Yokoyama (横山 誠)
Seiji Mori (森 聖二)
The Best Picture AwardRuroni Kenshin: Kyoto Inferno/The Legend Ends 
KIDS=ZERO 
TOKYO TRIBE 
Uzumasa Limelight 
Garo: Makai no Hana
Hoshimi Asai won the Best Action Director's Award for her film KIDS=ZERO,
which also received the Best Action Picture Award.
---